A. We are also specialize in providing Annual Service for Safety Equipments for Ships & Oil Rigs
Including: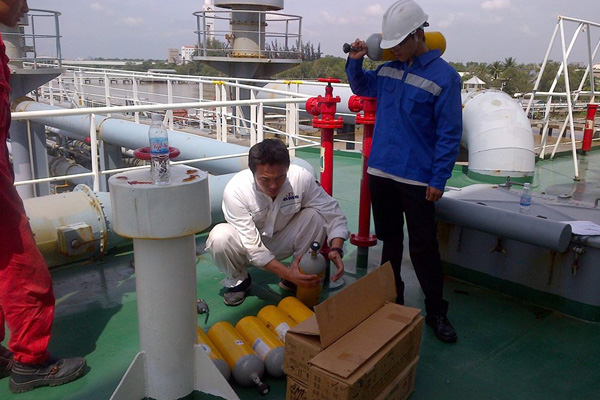 Annual Inspection for Inflatable Liferafts
Annual Inspection for Lifeboat and Launching Appliances.
Annual Inspection for Portable Fire Extinguishers.
Installation, Inspection for Fixed Fire Extinguishing Systems such as CO2, Halon 1301, Dry Chemical Powder, Foam, Novec, FM-200.
Annual Inspection for SCBA, EEBD.
Annual Inspection for Inflatable Lifejacket.
Inspection & Air Pressure Test for Immersion Suits.
B. Supply of new equipment and materials
Oxygen and acetylene refilling
Cargo holds cleaning services
We are doing the following Load test for ship:
Cargo crane Load Test
Liferaft & Lifeboat Davit Load Test
Cargo Hose Lifting Load test
The Test Equipment including:

+ Load cell 5 tons, 25 tons, 50 tons, 100 tons with remote control
+ Water bag 3 tons, 5 tons, 12 tons, 15 tons. Total weigh can be provided up to 40 tons.
D. Calibration and testing
We are providing the following laboratory service:
Foam Sample Analysis.
Breathing Air Quality test for CO, CO2, Water Vapour and Oil Mist.
Calibration of Portable Gas Detectors.
Calibration of Pressure Gauges.